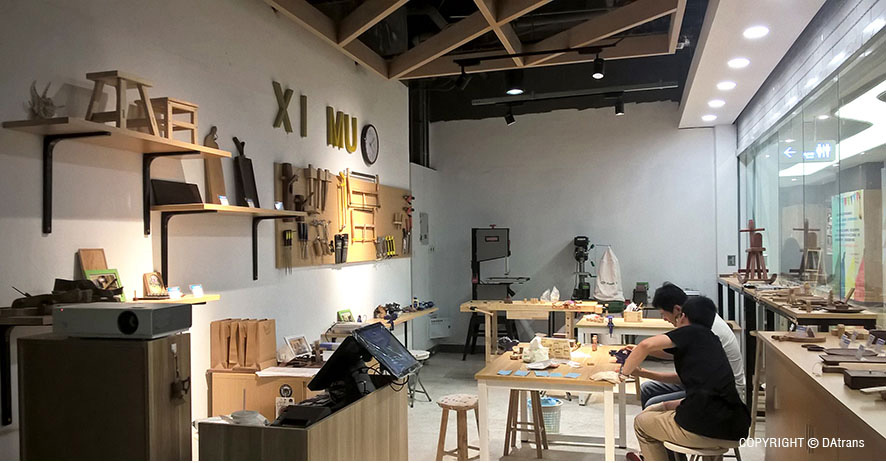 天工之城南京手工生活汇位于古都南京江宁新区百家湖21世纪太阳城三楼,建筑面积1400平方米,容纳了14家左右涵盖纸艺、皮具、木工、插花、儿童美术和金工等手工店坊。由天工之城、上海创意产业协会手工DIY促进中心和日本地慧地产策划(CCD)、实施和运营,德默营造应邀负责整体空间设计。
2016年底,天工之城南京手工生活汇项目完工并正式营业。这也是天工之城和德默营造继十年前在宁波慈城合作后的再度携手。
衷心希望天工之城南京手工生活汇的开业能为古都南京带来一个新型的的结合手工、艺术、音乐、咖啡和展览的的体验、学习和交流的文创空间,满足日益增长的家庭休闲生活需求。
The Project Handcraft's City Experience Center, Nanjing is completed and opened in the end of 2016.
The 1,400sqm space, located in the Baijiahu, Jiangning district of the city Nanjing, contains 14 handcraft's retail-workshops like paper art, leather, woodworking, ikebana, kids's DIY and goldsmith etc., and a special DIY learning center that provides the programs for DIY's fans' display, promotion and exchange will also integrated.
DAtrans was invited to the space design by Handcraft's City Group with Shanghai Creative Industry Association, and CCD Japan, a continuality cooperation that has started since almost 10 years in Ningbo Cicheng,
We wish the opening of this space will bring Nanjing a new typology of cultural space combined with the program of experience, learning and communication and match the increasing social requirement from the family's leisure.